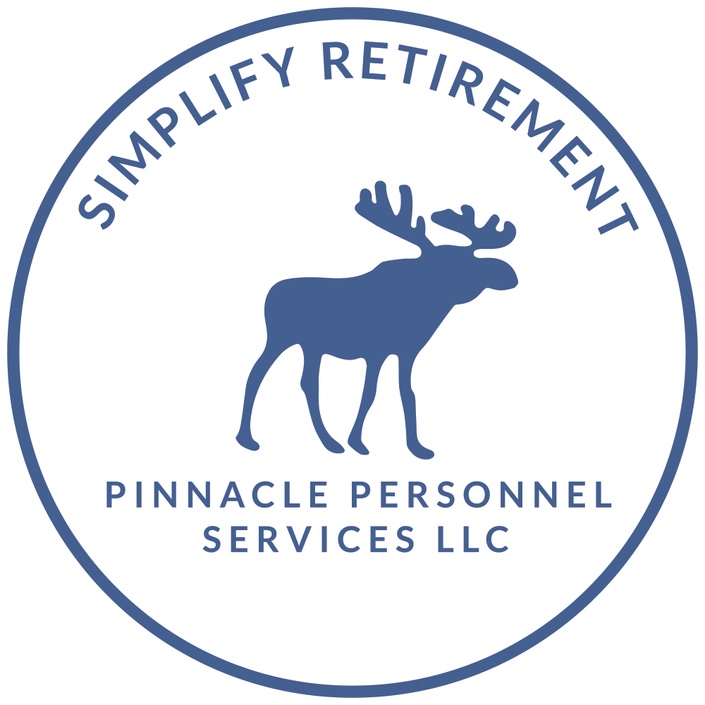 Traditional Plain & Simple. (Breaking) The Retirement Code
Decipher Federal Retirement (CSRS, CSRS-Offset and all manner of FERS)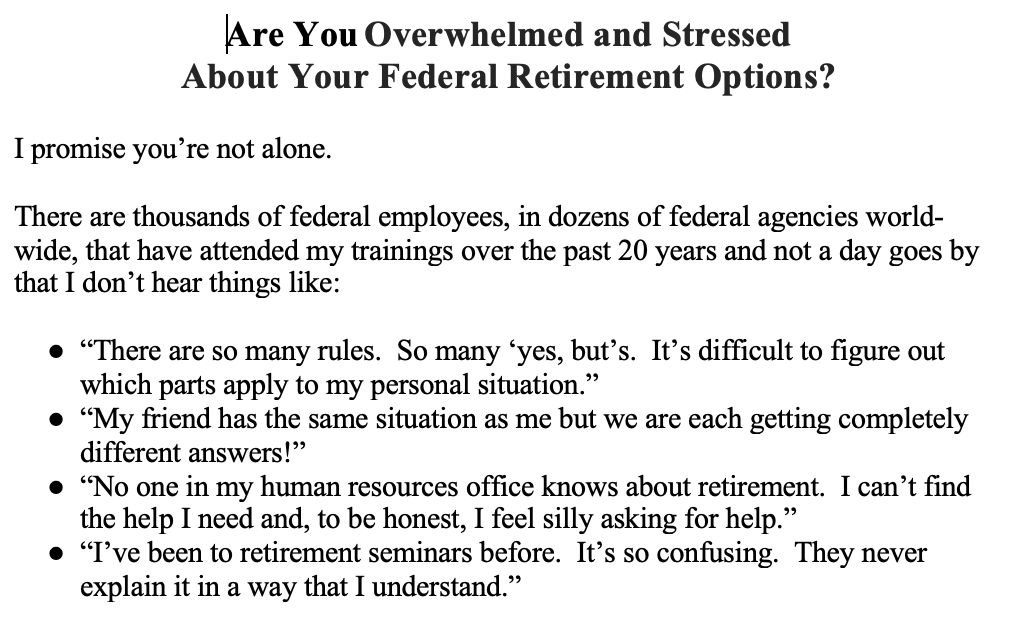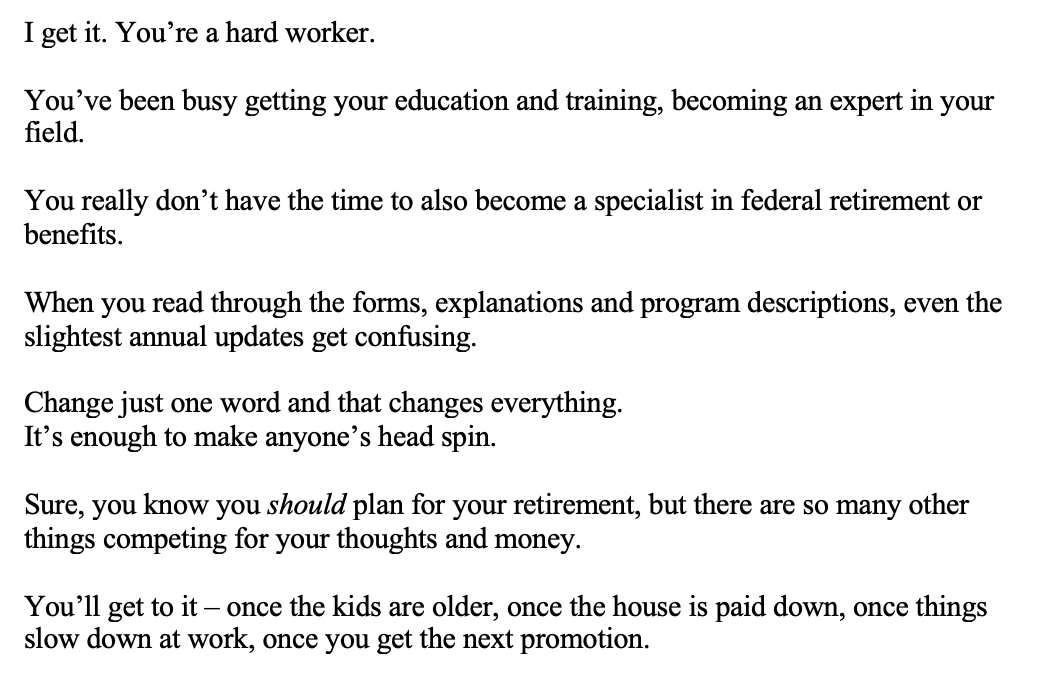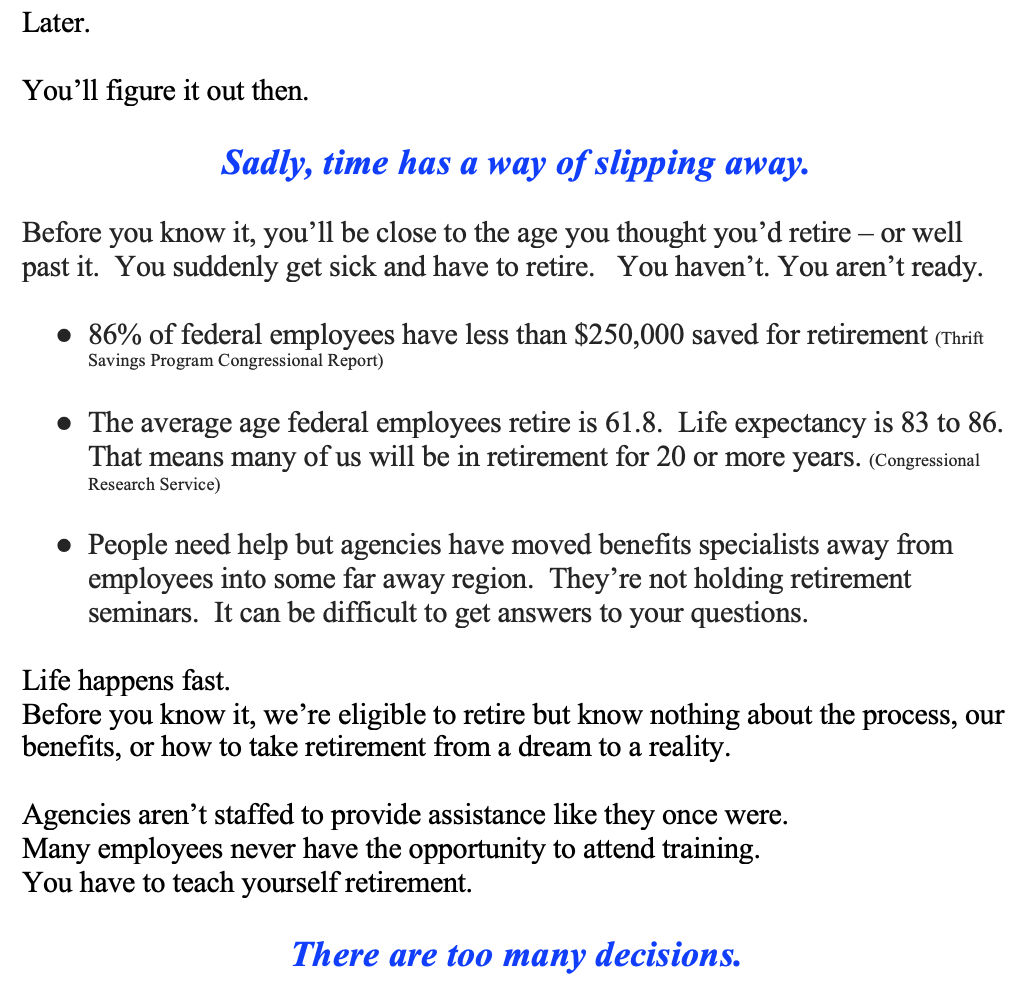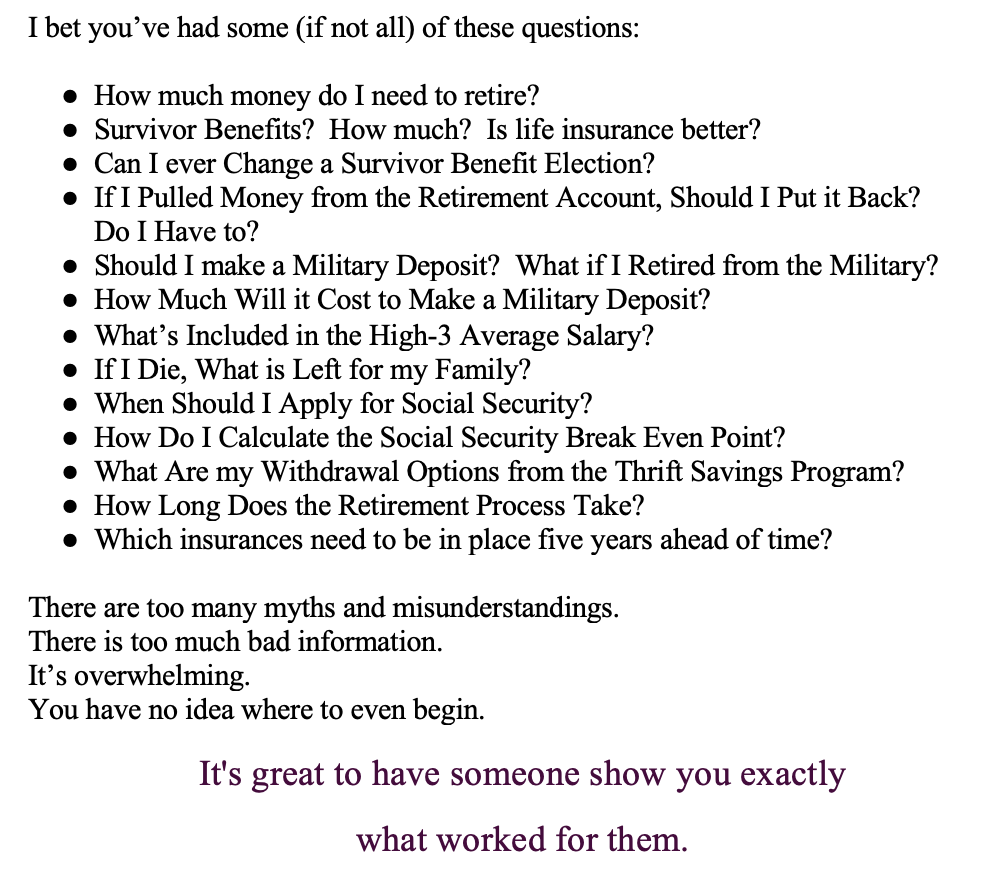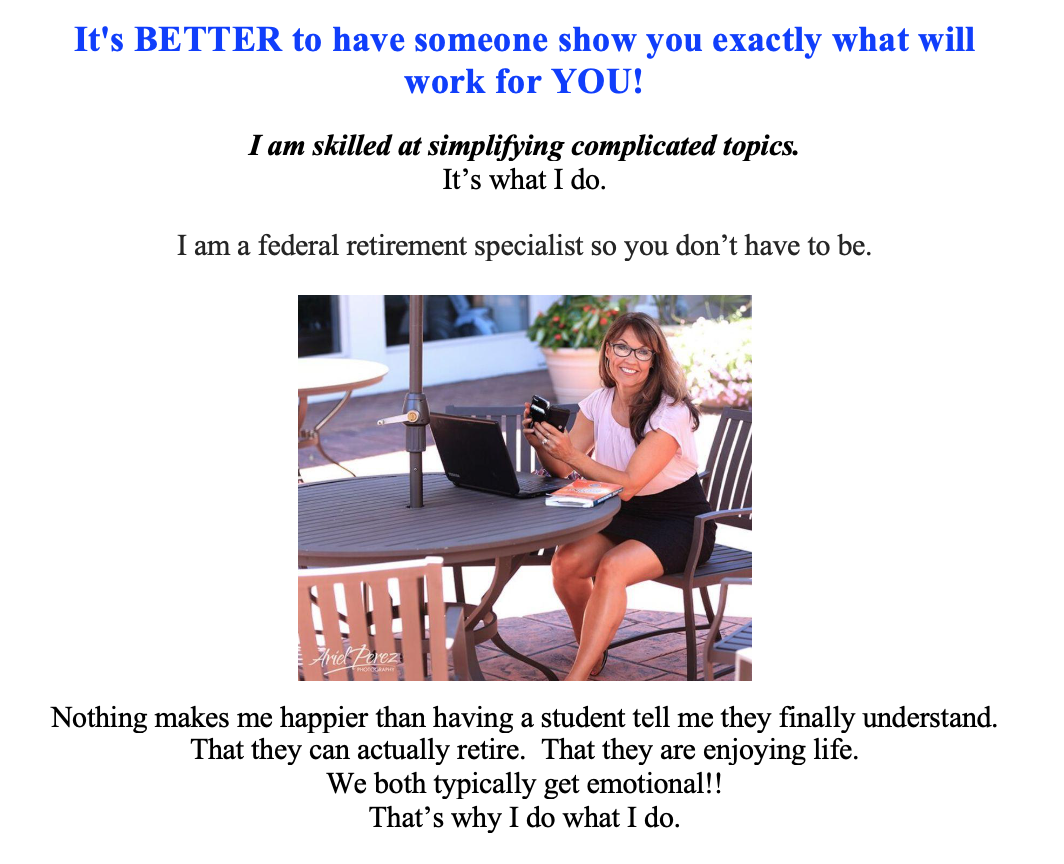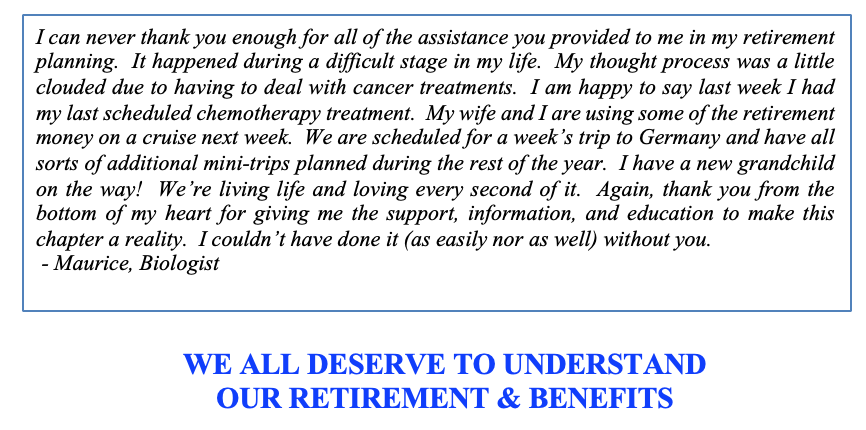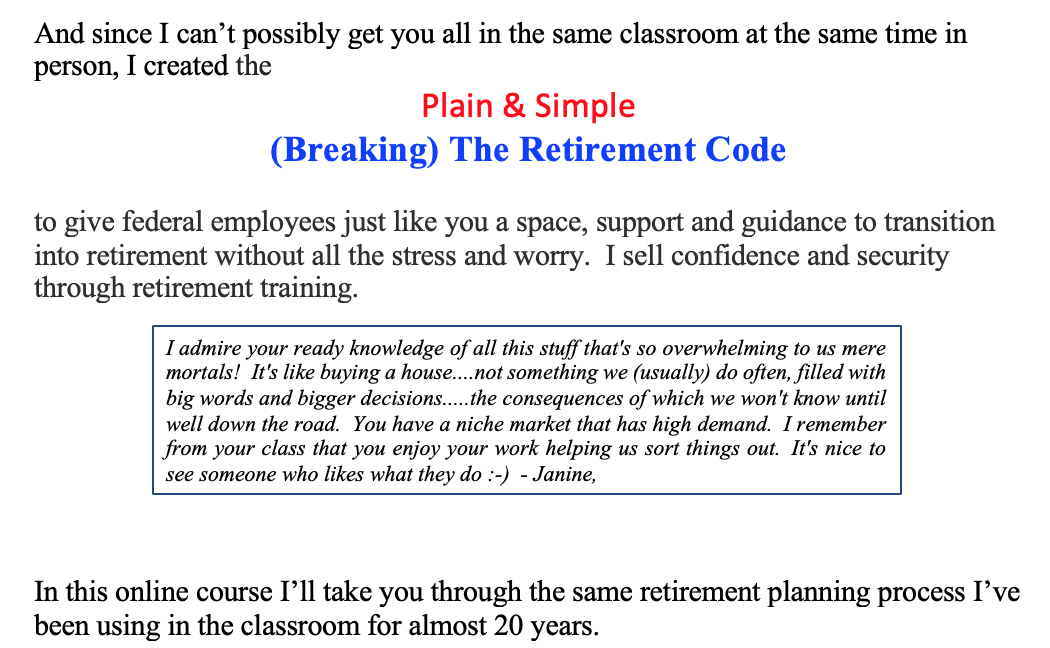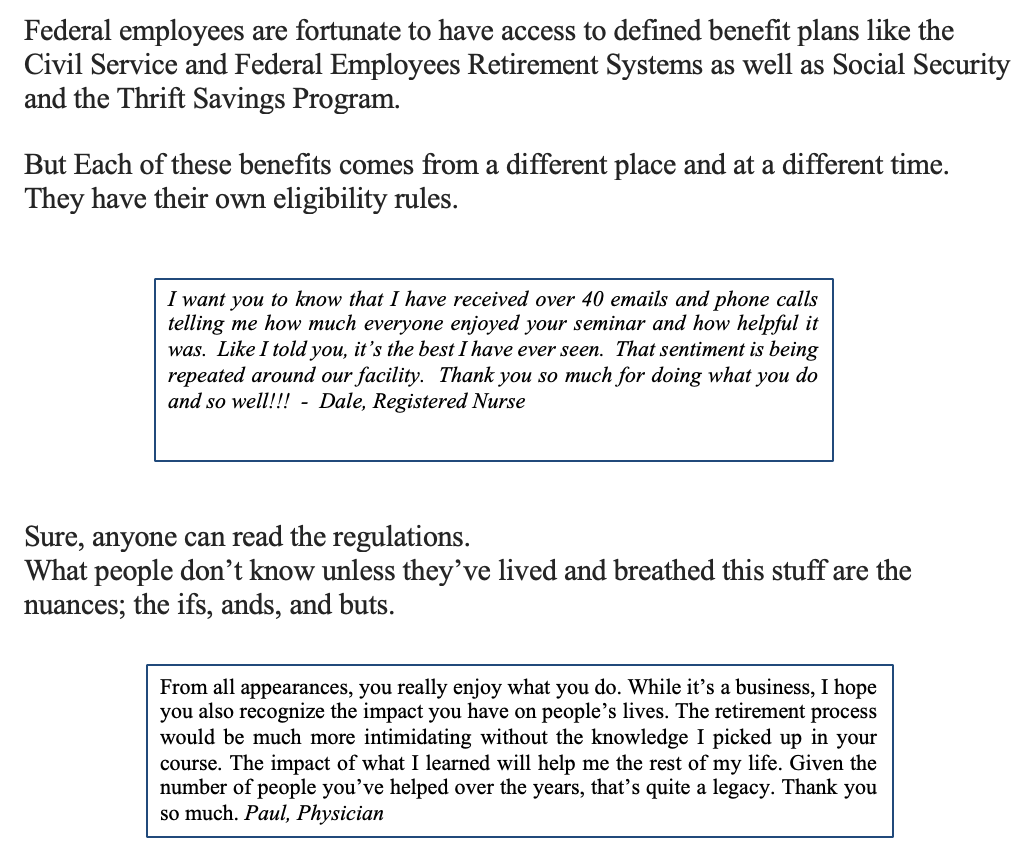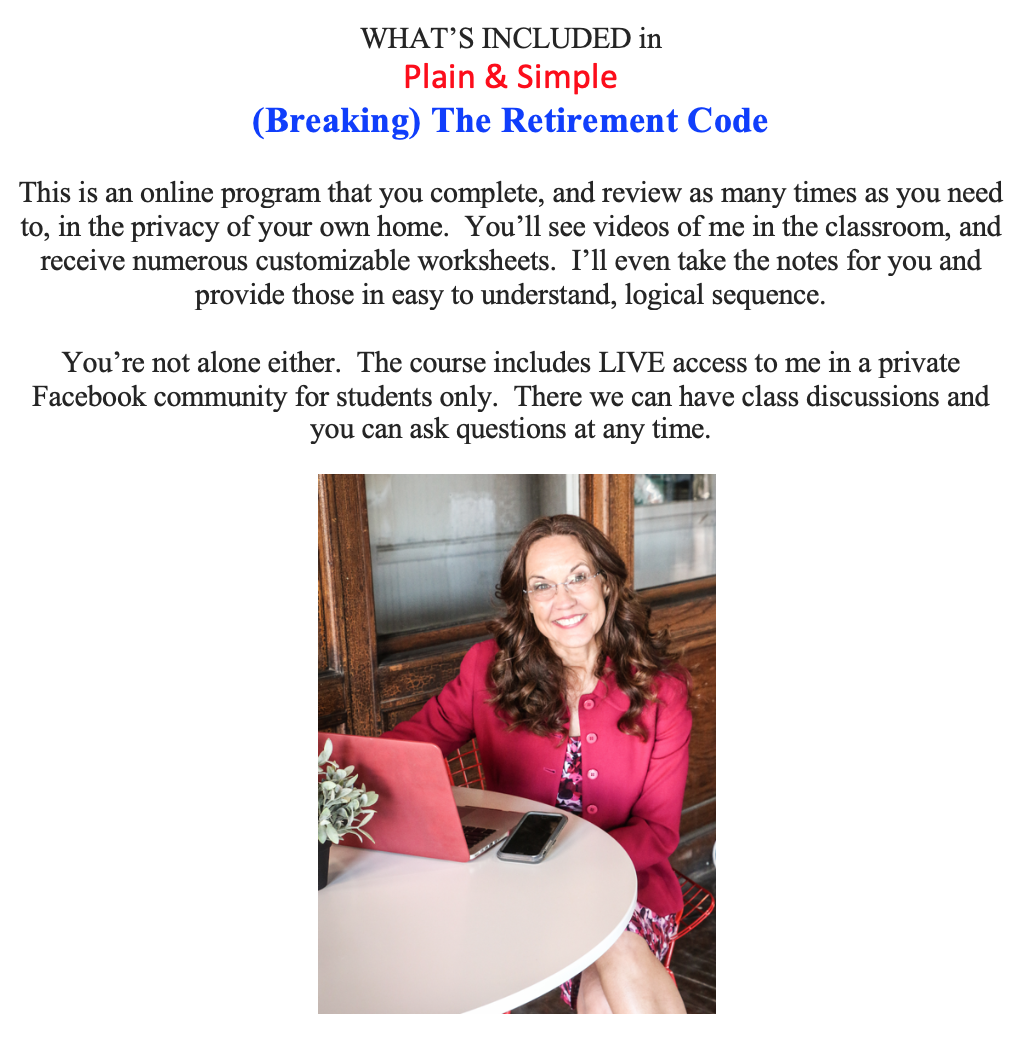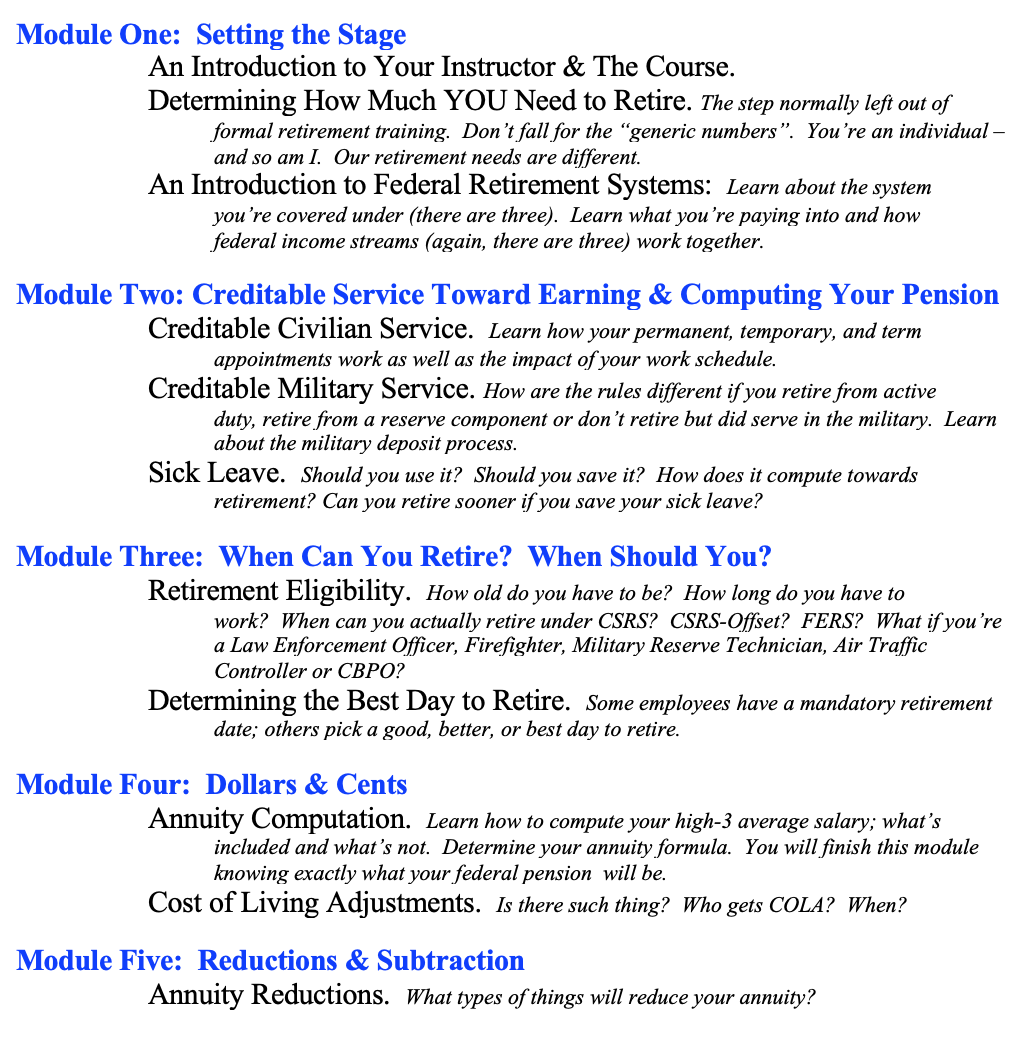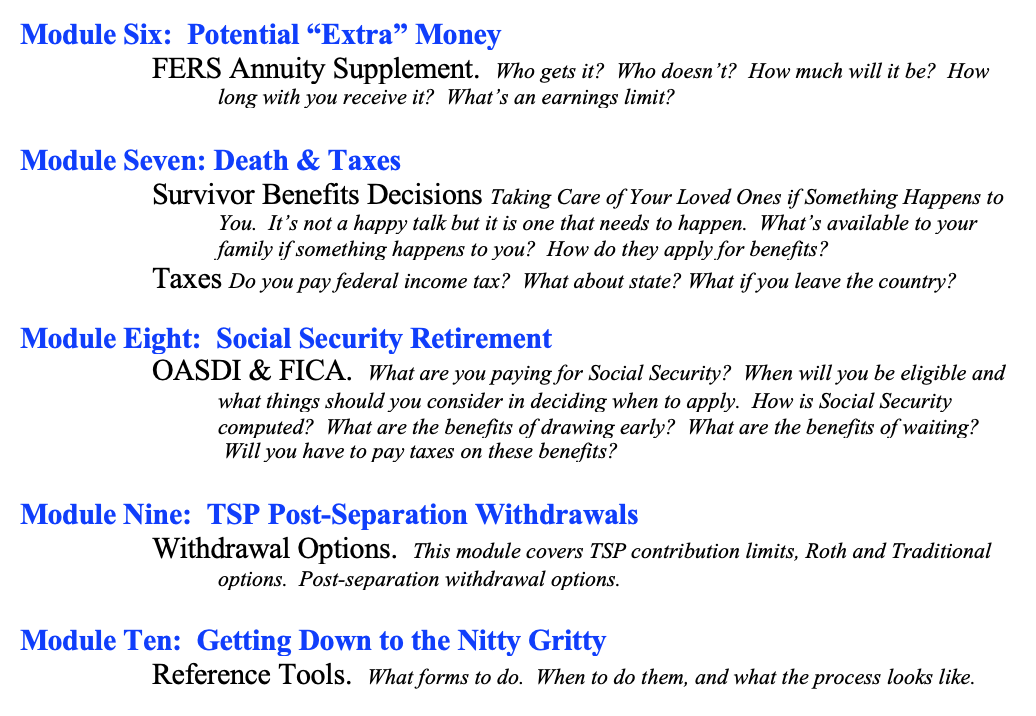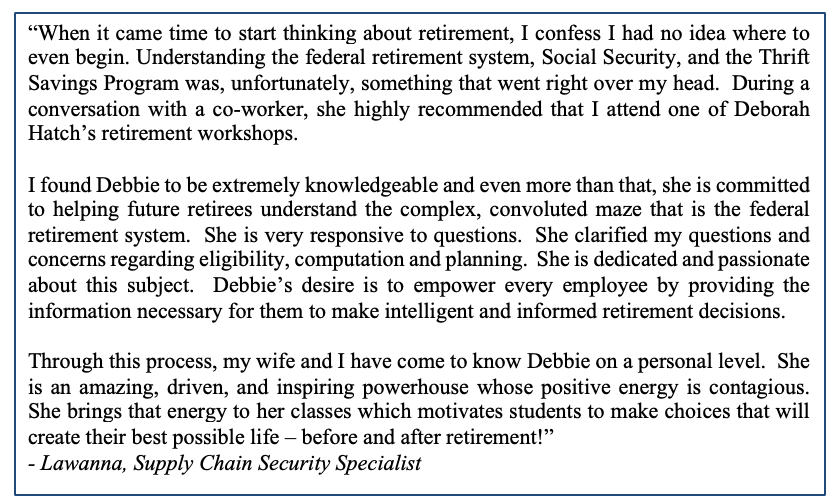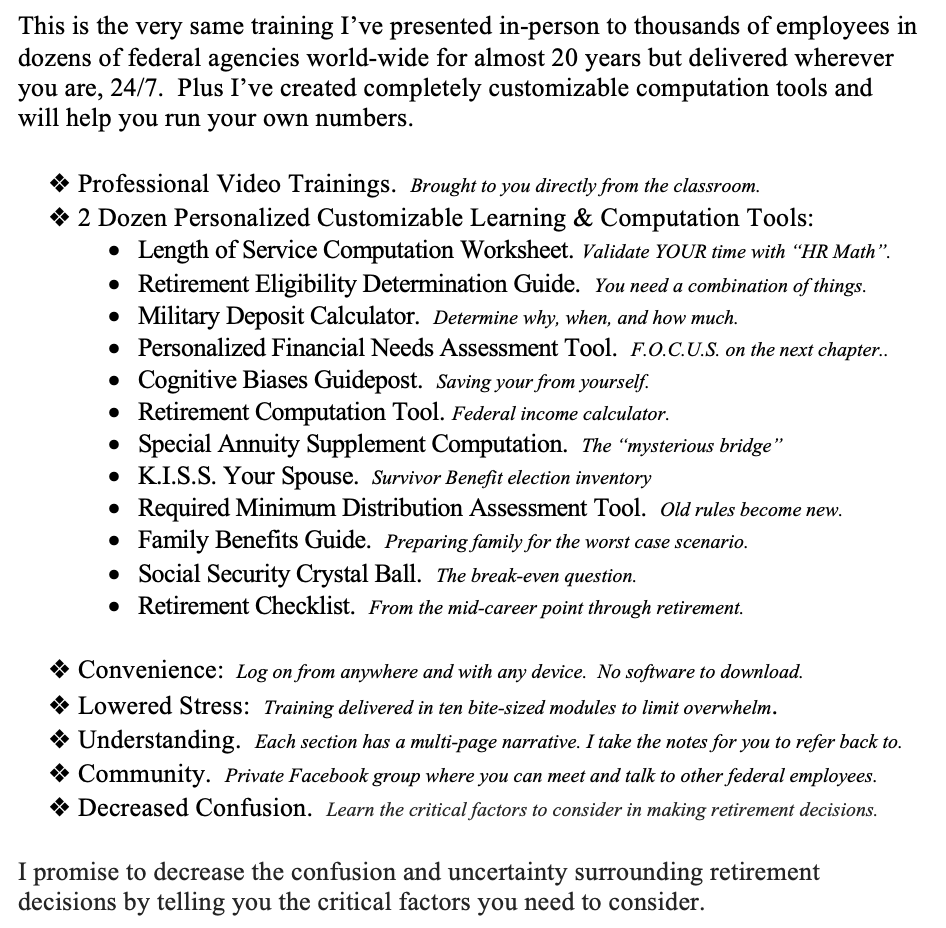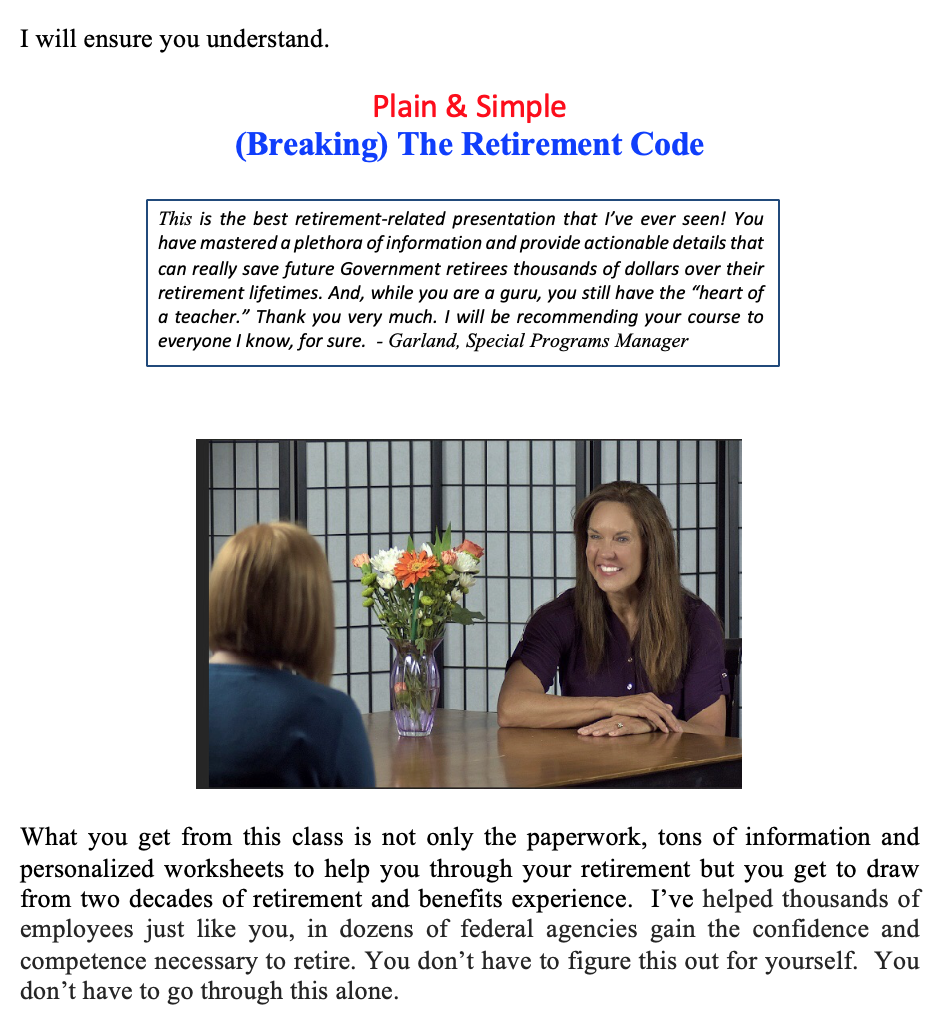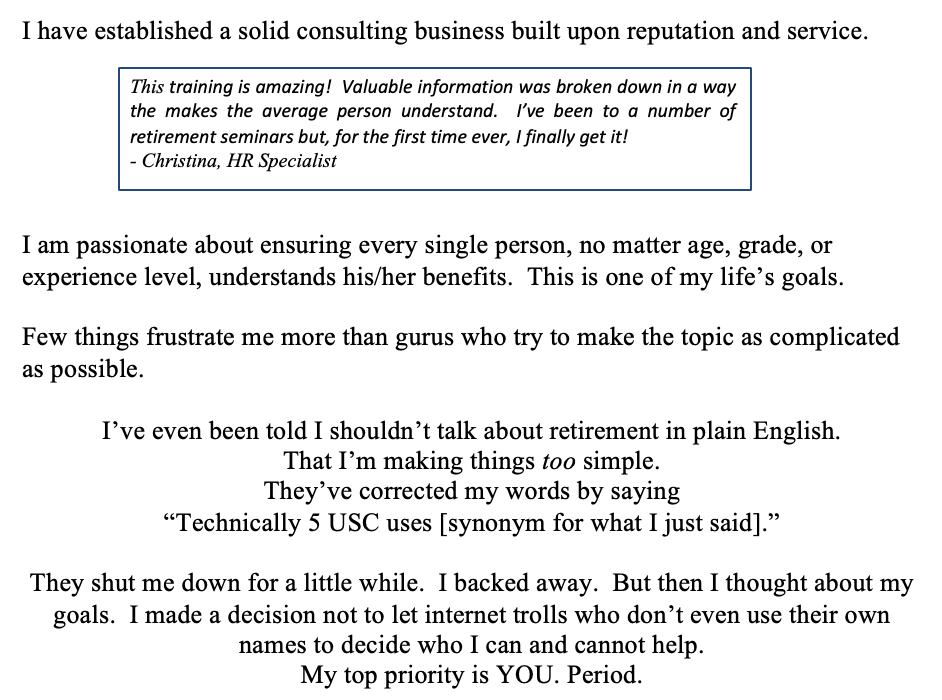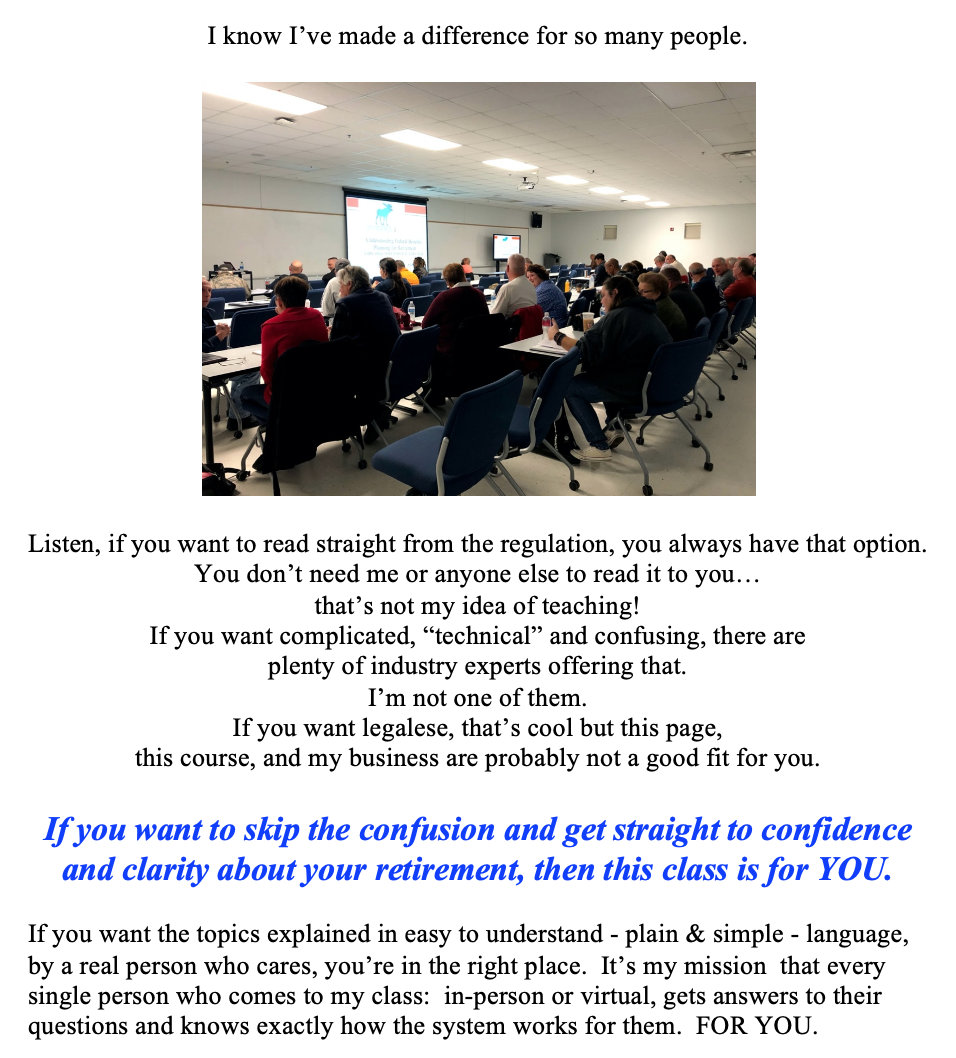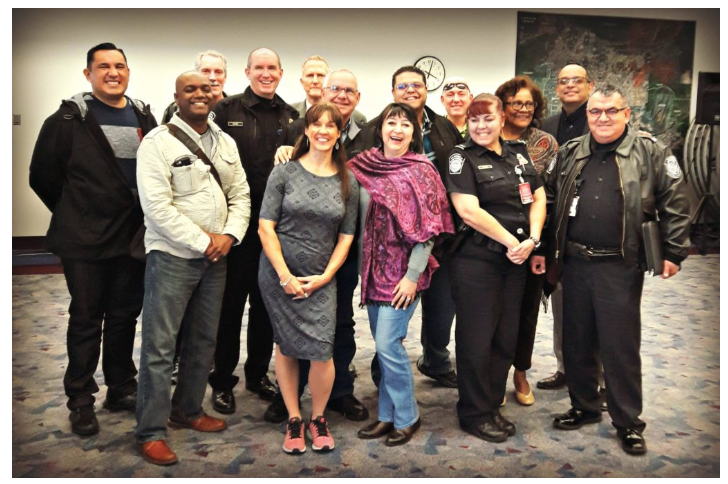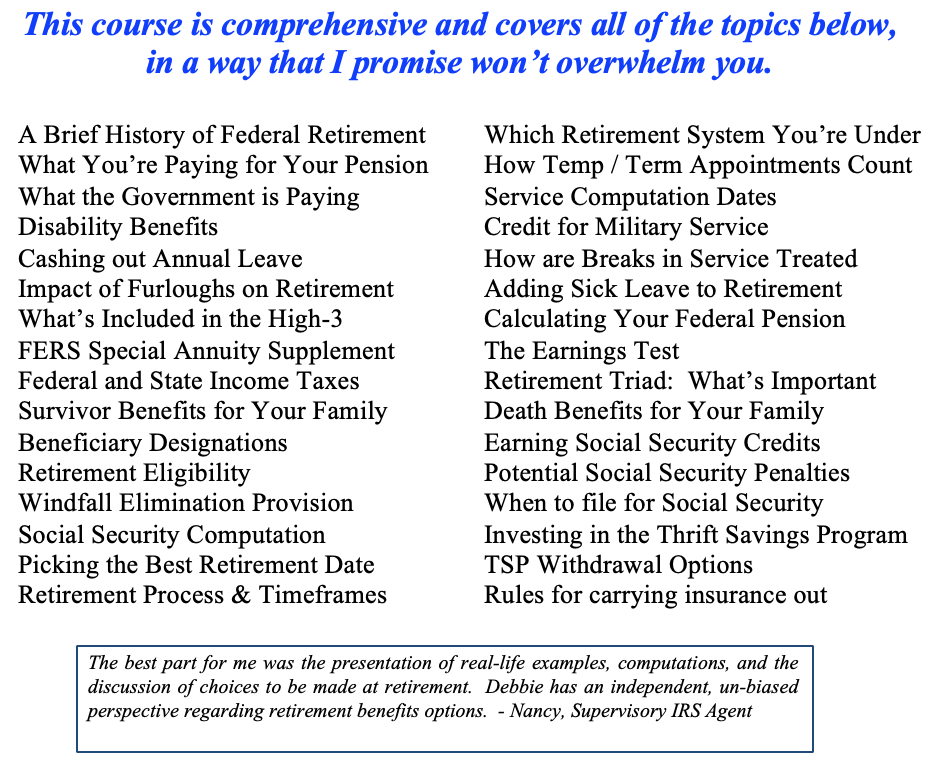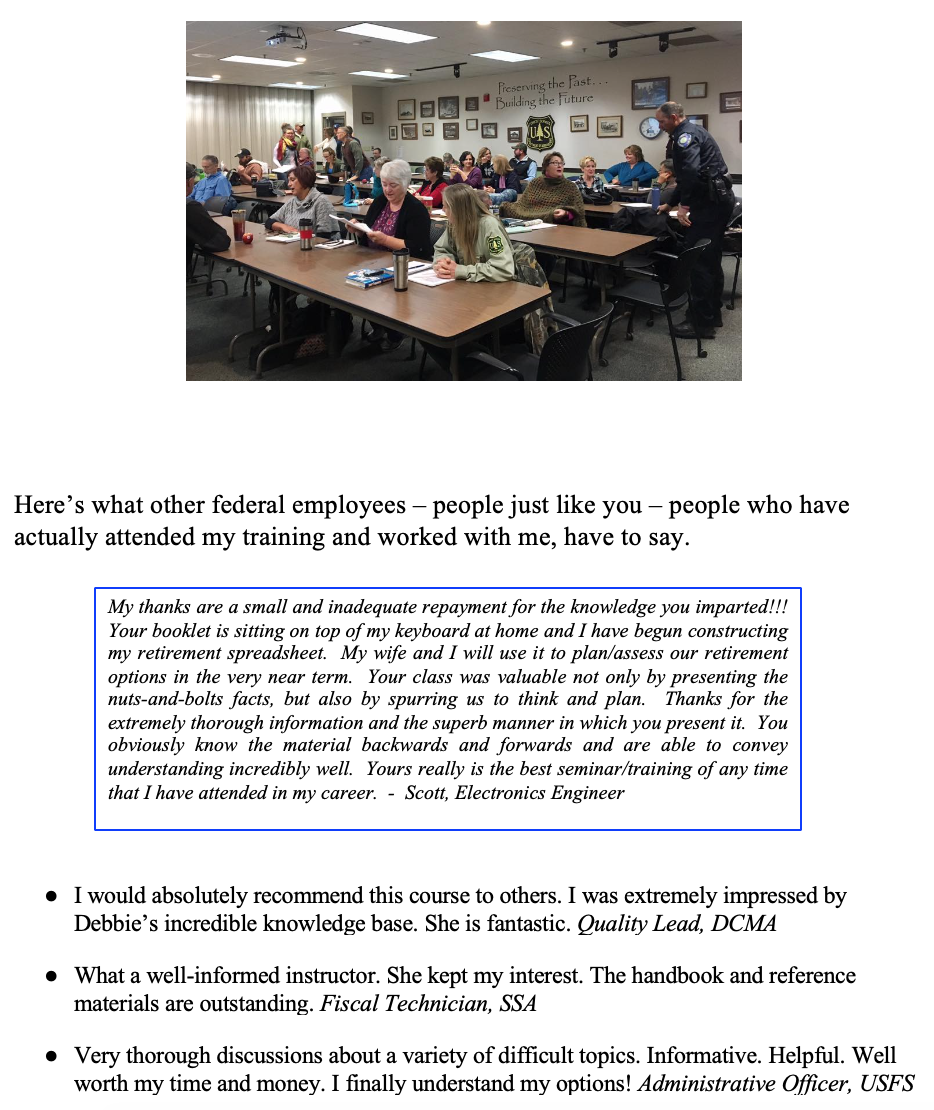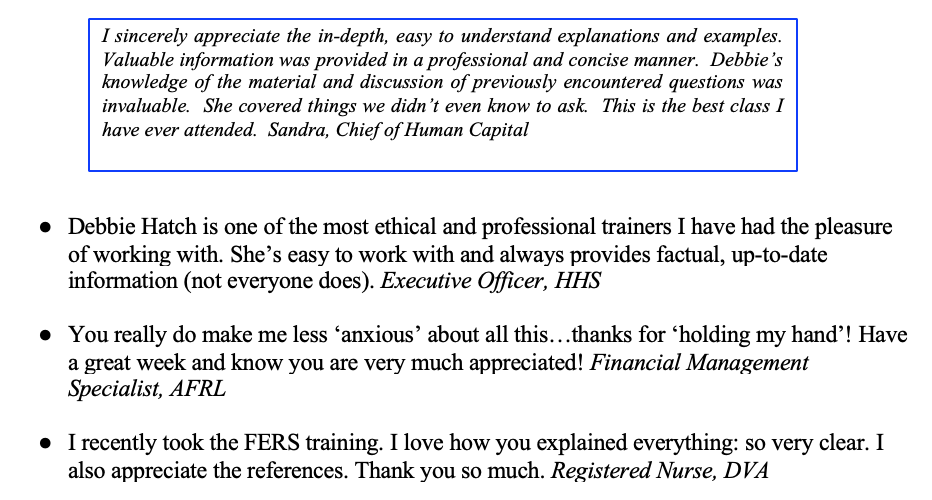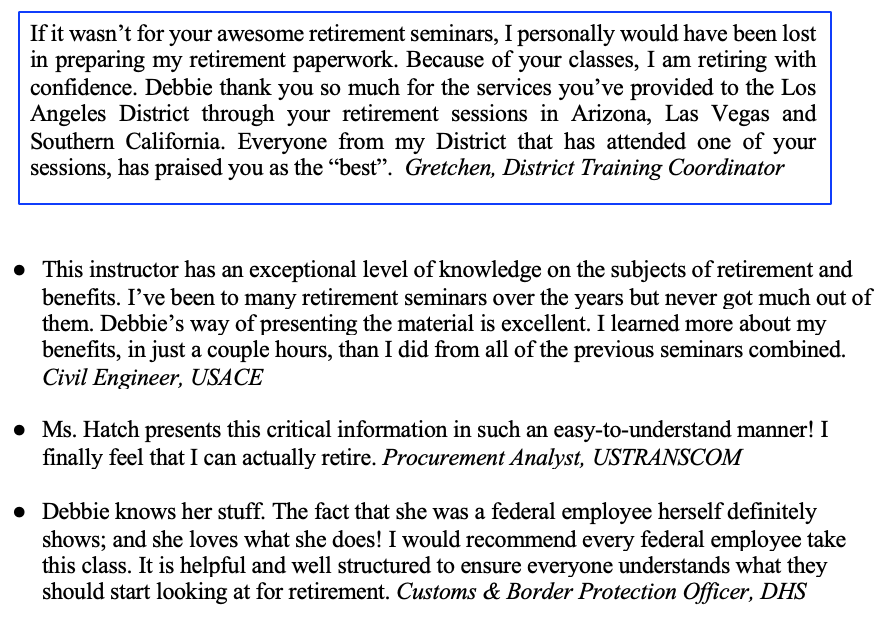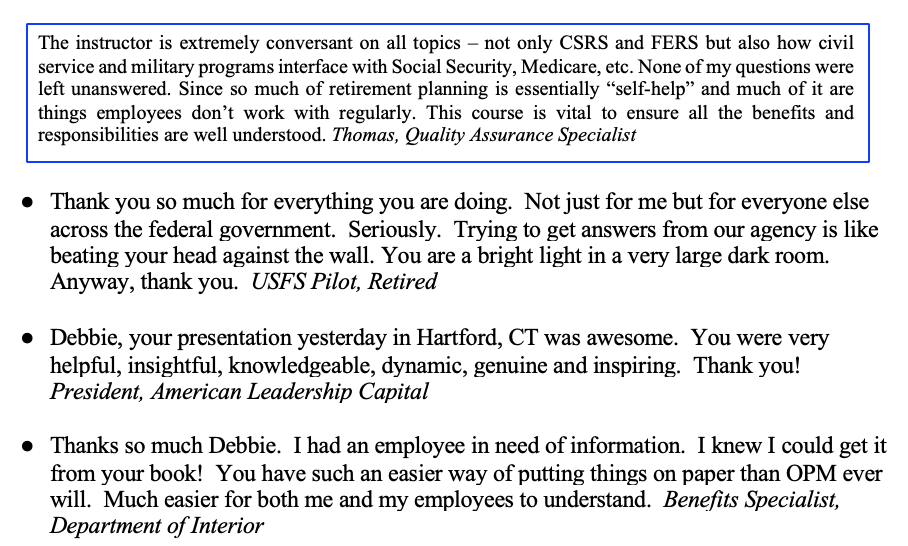 Your Instructor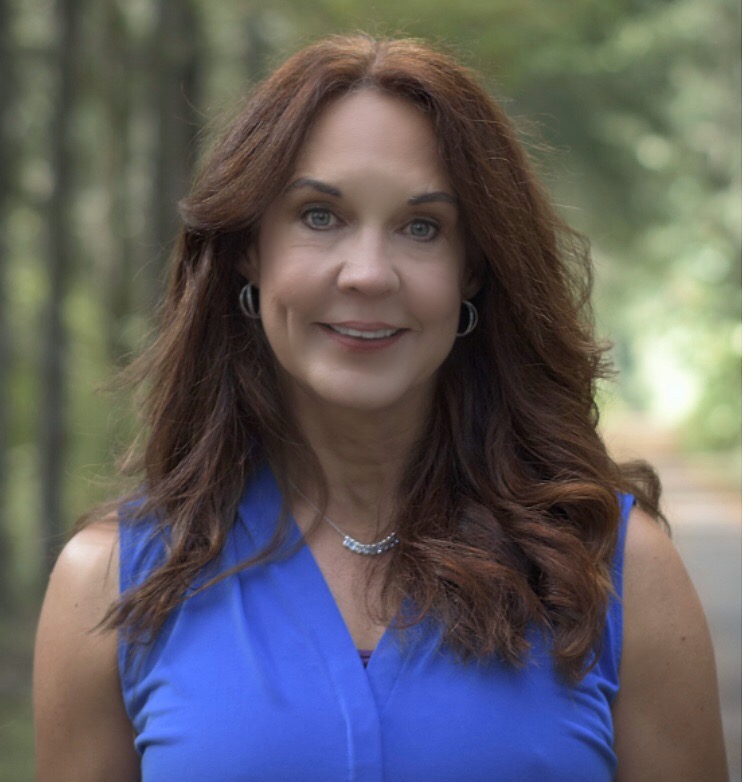 Not only am I an instructor but also a lifelong learner. I've put in the time. I've studied and tested. I've accrued the credentials. I've been working for and with the federal government since 1995. First as a federal employee, within Departments of Defense, Air Force, and Veterans Affairs and; now as a contracted instructor. I've conducted thousands of seminars for dozens of federal agencies and more than 50 DoD installations, worldwide. I've also helped hundreds of individual clients get comfortable and confident about their retirement planning. While I make a living teaching retirement courses, I'm not here to sell: I'm here to serve.
I am a member of the National Association of Retired & Active Federal Employees and the Society for Human Resources Management. I am registered and approved as a federal government services provider through the General Services Administration. I've completed Financial Coach Master Training through Ramsey Solutions and am a certified Blended Retirement System Financial Counselor/Educator.
What you likely want to know:
Retirement & Benefits Instructor, Federal Benefits Services, LLC., 2004 – present.

Founder and CEO, Pinnacle Personnel Services, LLC., 2005 – present.

Co-author, federal retirement chapters, LRP Federal Manager's Guide 2008 – 2014.

CEO, Federal Benefits Services, LLC., 2013 – present.

Military Blended Retirement System (BRS) Financial Counselor / Educator. 2017 – present.

Instructor, Long Term Care Partners, 2016 – present.

Retirement & Benefits Consultant, Retire Federal, 2019 – present.

Licensed State of Virginia, Annuities & Insurance.2015 - 2018

Master of Science degree, Organizational Leadership, Norwich University.2011.

Member, National Active & Retired Federal Employees Association. 2005 – present.

Professional member, Society for Human Resources Management. 2003 – present.

Professional Human Resources certification, HR Certification Institute.2003 – 2015.

Bachelor of Science degree, Business Management, Maryland University. 2001.
What I really want you to know:

My knowledge of federal retirement, Social Security, Thrift Savings Program, federal benefits and my ability to explain difficult concepts in an easy to understand manner provides clients quality information upon which they can make confident, informed retirement decisions.
Like every other new thing we've ever done, retirement can seem a little intimidating at first.
Like every other new thing we've ever done, education and planning can help.
I passionately believe three things are critically important to retirement planning: Health, Wealth & Personal Fulfillment. One or two without the other isn't enough. I've been helping people learn about this next stage of life for two decades so far. I'm a certified personal trainer and mindset coach. I'm licensed in annuities and insurance (I sell neither - I did this for educational purposes). I'm a trained presenter for Long Term Care Partners.
I care about YOU understanding these topics.
Frequently Asked Questions
When does the course start and finish?
The course starts now and you have access to everything for 6 months. There's a timeline because I want you to take action. I want retirement to be top of you mind. I don't want you to put this off any longer. The online course is self-paced - you decide when you start and when you finish during this time. You choose how many times to go through the videos.
Do the course materials belong to me?
This course has been a labor of love for me. I have invested two decades into understanding this material and learning how to present it in an easy-to-understand way. I have spent hundreds of hours and thousands of dollars putting the course together. I really do care. From that place of sincerity, I ask that you protect my intellectual property. My materials are copy written through the Library of Congress. You are able to download all the notes pages and customizable worksheets. They are for your personal use only. Please do not copy or distribute these materials. You do not have permission or rights to copy, download, or distribute videos.
How do I ask questions?
Email me at
[email protected]
and/or check out the Pinnacle Personnel Facebook page and message me there.
You can do this. You just need a little support, a little encouragement. I'm not perfect. I'm a human, just like you. I make mistakes, just like you. Some people will like me and others won't, just like you. I promise though - I can help. I've helped thousands of federal employees become confident about their retirement decisions. Few things make me more happy than receiving a letter or postcard from someone who is enjoying life after retirement. There's a whole new chapter there! Whenever you choose to retire, whether that is going to be within the next few months or two decades from now, you will find that planning serves you well. It's never too early to learn about your retirement. The Retirement Code continues to be a a labor of love from me. I know this course can make a difference.
Know that I'm cheering for you - and can't wait to hear what you do with this next chapter of life.
Join me won't you? Bring a coffee because espresso & education go hand in hand.